Creating A Successful Social Media Marketing Plan
A plan for social media marketing establishes your objectives and planned strategies on social media and acts as a standard to gauge your achievements. The more detailed and specific your plan is, the more successful it will be. Avoid making it overly ambitious or difficult to track progress. This article provides a nine-step guide to crafting an effective social media strategy, with valuable input from Mark Edmonds, Academic Assignments' Senior Academic Research Writer.
How to create a social media marketing strategy:
Select objectives that are in line with your overall business goals
Gather ample data on your target audience.
Get to know your competitors
Evaluate your current social media performance
Create and optimise your social media profiles
Look for sources of inspiration to improve your social media presence
Establish a content calendar and schedule
Create interesting and captivating content
Keep track of your progress and make adjustments as needed
What is social media marketing?
Social media marketing is utilising social media platforms to promote and advertise a brand, product, or service. It offers a range of benefits to businesses, including increasing brand visibility, fostering engaged communities, generating sales, measuring brand sentiment, providing customer support, targeting specific audiences with promotions, and analysing performance metrics to adjust marketing strategies.
What is a social media marketing strategy?
In simple terms, a social media marketing strategy is a written plan that outlines the goals, strategies, and methods of measuring progress for your social media activities. The document must include an extensive inventory of all your existing and upcoming social media profiles, with clear objectives for each platform that is consistent with your overall digital marketing plan. A successful social media strategy should also establish team members' roles and responsibilities and how often progress should be reported.
Creating your social media marketing plan
1. Select objectives that are in line with your overall business goals
To create a successful social media plan, it's important to set specific and measurable goals that can be used to assess your success or ROI. To ensure that your social media objectives are attainable, you should follow the SMART guidelines, which stand for specific, measurable, achievable, relevant, and time-bound. You can take inspiration from pre-existing examples to create SMART social media goals.
While tracking metrics like followers and likes may be easy, they may not always reflect real value. Instead, focus on more meaningful metrics such as engagement, click-throughs, and conversion rates. You can refer to important social media metrics to help you with this.
You can track different objectives or purposes for each social media platform. For instance, if you want to increase your website traffic via LinkedIn, you can monitor click-throughs. If you aim to enhance brand visibility on Instagram, you can keep an eye on the number of Instagram Story views. Lastly, Cost-per-click (CPC) is a commonly used performance metric if you run Facebook ads.
Ensure that your social media objectives correspond with your overall marketing goals. This facilitates demonstrating the worth of your efforts and acquiring the approval of your superiors.
Identify at least three social media objectives to create a triumphant marketing plan.
According to Mark Edmonds, One Of Our Senior Assignment Experts at Academic Assignments, it is simple to become inundated with selecting what to post and which metrics to monitor. Therefore, it is critical to focus on your initial social media objectives. Only commence posting and tracking some metrics; instead, align your objectives with your business and track only the relevant metrics.
2. Gather ample data on your target audience
To effectively engage and target your audience on social media, viewing them as real individuals with genuine needs and wants is crucial. To identify your ideal customer, you should gather information about their demographics, such as age, location, income, job title, industry, and interests. Social media analytics can help you gain valuable information about your followers, such as their demographics, location, and engagement with your brand. These insights can help you fine-tune your social media strategy and better focus on your target audience. An example is Jugnoo, a ride-hailing service in India, which utilised Facebook Analytics to discover that most customers who referred others were aged 18 to 34 and used Android. Using this information to improve their advertising targeting reduced the cost per referral by 40%.
3. Get to know your competitors
It is probable that your competitors are already utilising social media, so you can gather ideas from their tactics.
To establish your social media objectives, conducting a competitive analysis is important, which can help you identify your competitors and their strengths and weaknesses. This will give you an idea of the industry's expectations and potential opportunities. For example, if a competitor dominates Facebook but has neglected Twitter or Instagram, you should focus on those platforms instead of trying to attract followers from the dominant player.
Another useful method is social media listening, which involves searching social media for your competitors' company names, account handles, and relevant keywords to observe what they're sharing and how people are responding. It's also possible to evaluate the effectiveness of their influencer marketing campaigns.
By closely monitoring the social media performance of your competitors and industry leaders, you may identify emerging trends or uncover specific content or campaigns that were either successful or unsuccessful. This knowledge can be used to enhance and direct your own social media marketing strategy.
However, Mark warns against going too far with competitive analysis. Comparing yourself to competitors constantly can become a distraction, so limiting it to once a month is best. Instead, concentrate on your plan and outcomes.
4. Evaluate your current social media performance
If you're currently utilising social media, it's time to evaluate your progress. Consider the following questions:
Which tactics have been successful, and which ones haven't?
Who is interacting with your content?
What are your most important collaborations?
Which platforms does your intended audience use?
How does your social media performance measure up against your competitors?
After gathering this data, you can start brainstorming ways to enhance your strategy. To help you through this process, we've developed a social media audit guide and template that are simple to follow.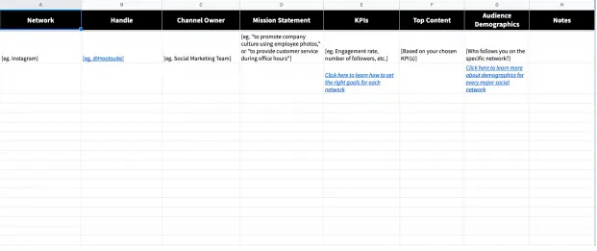 When conducting a social media audit, it is crucial to identify the purpose of each social media account. If you are unsure about the purpose of a specific account, consider if it is worth keeping. You can use key questions to help you decide, such as whether your target audience is present on the platform, how they use it, and if the account can help you achieve your objectives. By asking these questions, you can maintain focus on your social media strategy. Additionally, you may come across fake accounts using your company or product names during the audit, which can damage your brand and attract followers who should be yours. Verifying your accounts is important as it lets your followers know that they are interacting with the authentic and genuine version of you.
5. Create and optimise your social media profiles
Determine which social media platforms to utilise and establish a specific plan for each one. For instance, Benefit Cosmetics' social media manager Angela Purcaro explained how they use Snapchat and Instagram Stories for makeup tutorials while reserving Twitter solely for customer service. Hootsuite's social team further elaborates on this by using Instagram's feed to post product announcements and infographics while utilising Instagram Stories for real-time event coverage and rapid social media updates.
To start with your chosen social media platforms, the first step is to create profiles that reflect your strategy or update existing ones to better align with them. Ensure you complete all profile sections, use relevant keywords, and maintain consistent branding (such as logos and images) across all networks to make your profiles easily identifiable.
Stay calm by this list. It's important to remember that it's better to focus on a few channels and use them effectively rather than spreading yourself too thin and trying to be present on every network.
6. Look for sources of inspiration to improve your social media presence
Although having a unique brand presence on social media is important, you can still find inspiration from other successful businesses.
According to Mark, staying current with social media trends, successful campaigns, and new platform features is crucial. This step may be challenging, but it's just as important as the others.
You can access social media success stories and case studies on social network business sections like Facebook. These can provide valuable insights for your social media strategy. Additionally, you can browse award-winning social media accounts and campaigns, such as The Facebook Awards or The Shorty Awards, to get inspired. Hootsuite's Fridge-Worthy is also bi-weekly awards show that highlights innovative brands on social media. You can also learn from your favourite brands on social media by observing what makes them engaging and shareable. For example, National Geographic is known for its stunning visuals with captivating captions on Instagram, while Lush Cosmetics showcases exceptional customer service on Twitter through its charming and on-brand responses to customer queries.
Dear @lushcosmetics if you don't bring back the scrub scrub scrub body scrub I will simply pass away. It smelled soooo good and the scent always lasted a long time. It was to die for. PLEASE BRING IT BACK #lush #pleaselush #illdoanything #lushaddict

— Faith Power (@FaithPower18) October 15, 2021
It's crucial to remember that these social media accounts should maintain a uniform voice, tone, and style that aids in conveying what kind of content people should expect from them. This consistency helps establish the brand even if a team manages their social media accounts. You can also gather content ideas from your audience by observing what topics they discuss online and what they desire or require. If you already have social media accounts, you can request input from your followers on what they expect from you, but it's important to follow up and deliver on their requests.
7. Establish a content calendar and schedule
To enhance the impact of your social media content, additional effort is required to create great content. You also need a plan for when to post it. Your social media content calendar should include when to post various content on each channel, like images, links, videos, blog posts and user-generated content,. By scheduling your posts, you can ensure they're published at the right times and with proper spacing and plan for regular posts and campaigns.
Creating a content strategy and calendar that aligns with your business objectives and reflects the mission statement for each social profile is crucial. Rather than jumping on every trend, it's important to have a clear strategy for social media marketing. You can determine a content mix that suits your business, such as 50% of content to drive website traffic, 25% of curated content, 20% of content to support lead generation, and 5% to highlight your organisation's culture. Allocating different categories of posts on your content calendar can assist you in achieving a suitable equilibrium. Suppose you need more clarification about what content to post. In that case, you can follow the 80-20 rule: 80% of your posts should be informative, educational, or entertaining, while the remaining 20% can directly promote your brand.
The "rule of thirds" is a strategy to consider for social media content marketing: 
To balance your content, one strategy is to allocate your content into three equal parts. The first part should be promotional in nature and focus on generating revenue for your business. The second part should feature ideas and content from industry leaders or similar businesses. The final third should consist of personal interactions with your audience.
Finding the right balance when posting frequency on social media is important. Posting too much may irritate your audience, while posting too little may make you appear uninteresting. If you're unsure about how often to post, consider these recommendations as a starting point: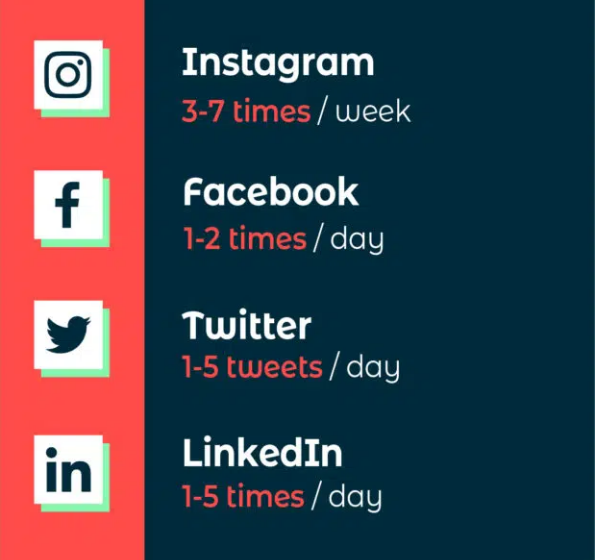 8. Create interesting and captivating content
In the fifth step, you crafted mission statements for each social media platform. Now, it's time to give concrete examples of the content you'll publish on each network to achieve your mission. This collection of social media content concepts can aid you in getting started and ensuring that your content aligns with the purpose of each platform. This will also allow you to showcase to other stakeholders the type of content that will be presented on each network. It's crucial to create content that is suitable for the network and the purpose you have established for it. Over time, testing can assist you in determining which type of content performs best on each platform. Creating content can be difficult, but returning to the fundamentals can be beneficial. Be ready to modify your content strategy frequently.
To begin with, in Step 9, ask yourself if your content is consistent and valuable. Are you offering a good combination of entertaining and educational material? Do you have distinct categories or themes representing your brand's storytelling and what it can provide to your audience? Creating a set of content pillars that encompass various elements of your brand's narrative is a good starting point.
9. Keep track of your progress and make adjustments as needed
The social media marketing strategy of your business is crucial, and it is unrealistic to expect it to be perfect from the start. Once you begin to put your plan into action and track your progress, you may discover that some tactics are not as effective as anticipated while others are more successful than anticipated.
You can evaluate your performance by utilising the analytics tools available on each social network (as described in Step 2) and implementing UTM parameters to track social visitors' movement on your website. This data will allow you to identify the social media posts that are generating the most traffic to your site.
Regularly reassess, experiment, and refine your strategy based on this information. Gathering feedback from your followers, email subscribers, and website visitors through surveys can also be a useful method to determine how well you are meeting their requirements and expectations and what kind of content they are interested in seeing more of.
Ensure that you check and analyse the performance of all your channels every week and gain an understanding of the basics of social media reporting to track your progress over a period. Remember that social media is constantly evolving, so your strategy should be a living document regularly reviewed and adjusted to reflect new goals, tools, or plans.
However, remember that social media is constantly evolving, with new networks emerging and existing ones going through changes. Additionally, your business will also change. Therefore, your social media marketing strategy is not set in stone and should be a flexible document that is reviewed and updated as necessary. Regularly consulting your plan is crucial to stay on course, but don't hesitate to make changes as needed to better match new objectives, strategies, or available resources.
Author Bio: Mark Edmonds is an accomplished marketing expert providing exceptional MBA assignment help to management students for over a decade. As an integral part of Academic Assignments, Mark has helped countless students achieve their academic goals by providing them with the best quality marketing assignment help. With his extensive knowledge of marketing concepts and social media strategies, Mark is passionate about helping students develop successful social media marketing plans that can help them excel in their careers. He is committed to providing students with the guidance they need to succeed in their academic pursuits and beyond, and his expertise has earned him a reputation as a trusted and reliable mentor in marketing.