Psychology Assignment Help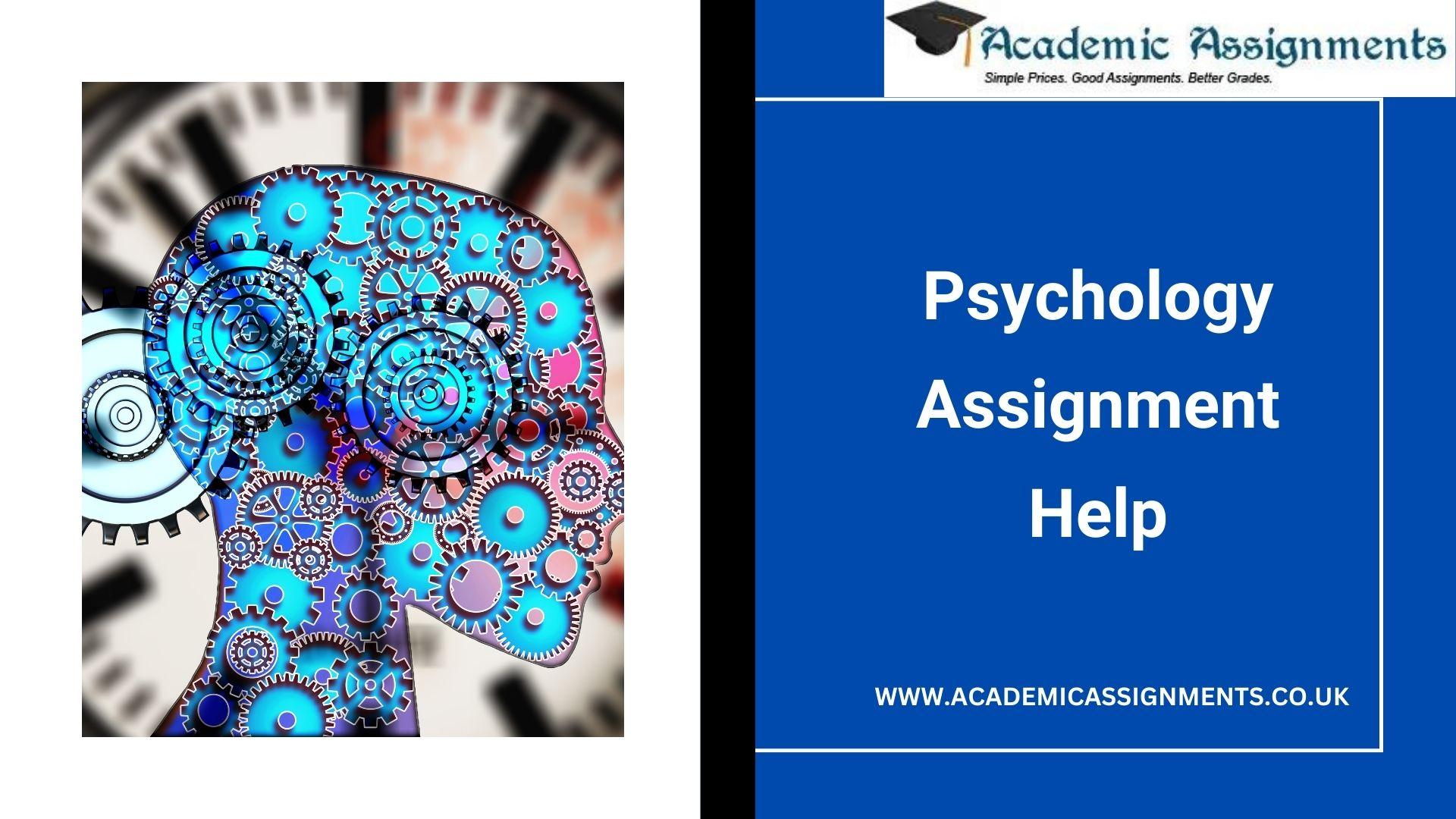 Introduction to Academic Assignments' Psychology Assignment Help
Understanding the intricacies of the human mind and behaviour presents exciting yet complex challenges for psychology students. Turning abstract concepts into compelling, insightful essays and research papers requires skill and know-how. This is where our psychology assignment writing services at Academic Assignments can help.
With over a decade of experience assisting psychology students, Academic Assignments has assembled a team of assignment writers highly experienced in this field. Our experts hold advanced degrees in psychology and related disciplines and are intimate with the analytical thinking and technical writing this subject demands.
Our Expertise in Psychology Coursework
Psychology covers many concepts and theories about human thinking and actions. Core topics span developmental, social, cognitive, organizational and clinical psychology. Comprehending the nuances of these disciplines demands sharp analytical abilities. Our writers possess this aptitude, allowing them to dissect complex psychological principles and translate them into engaging, custom-written papers.
For example, developmental psychology assignments require examining how people grow and change over time. Our writers can analyze the impacts of genetic and environmental factors across life stages. For social psychology papers, we explore how situations and culture influence individual behaviour in groups. Regardless of the branch of psychology, our writers have the specialized knowledge to tackle these assignments successfully.
Custom-Written Papers Backed by Research
Academic Assignments' writers take an academic approach to comprehending psychological theories and principles when writing psychology assignments. Our custom papers present engaging analyses supported by peer-reviewed scholarly sources and research. We analyze studies, interpret results, and draw conclusions backed by scientific facts.
For instance, if a paper is on memory, our writer will incorporate studies on encoding, storage and retrieval while citing experts like Atkinson, Shiffrin and Baddeley. For a paper on conformity, we may include Solomon Asch's seminal research on group pressure and individual decision-making. Our goal is to demonstrate a deep understanding of concepts through research-driven analysis.
On-Time Delivery for Peace of Mind
We know meeting pressing deadlines is critical for psychology students. Academic Assignments works diligently to deliver custom-written psychology assignments before the due date so you can review the work stress-free. Timeliness, along with quality, is our commitment.
Whether a short-term 1-page essay or a long-term research project, our efficient writing process and responsive support team ensure assignments are completed on schedule. We also understand last-minute emergencies happen. That's why we have a rapid turnaround option for urgent orders that need to be rushed.
Sharpening Psychology Knowledge and Skills
At Academic Assignments, we aim not only to complete assignments but also to enrich your psychology education. Our writers compose papers that deepen your grasp of core concepts and strengthen your research and academic writing skills for ongoing success. Our experts provide analysis and insights that stimulate further thinking on complex psychological topics.
The critical thinking, information literacy, and written communication skills gained by engaging closely with our custom assignments will serve you well in further psychology studies. Our papers aim to sharpen these skills so you feel more confident analyzing theories, synthesizing research, and conveying ideas in your writing.
FAQs
Q: What kinds of psychology assignments can you help with?
A: We can provide writing assistance on any psychology assignment – essays, research papers, lab reports, literature reviews, case studies and more for any course or level.
Q: Are your writers experienced in psychology coursework?
A: All our writers are experts with advanced psychology degrees, so they understand the analytical approach and technical writing required.
Q: How does your service ensure my paper is plagiarism-free?
A: Academic Assignments produces 100% original custom papers written from scratch. We check completed assignments for plagiarism using up-to-date software.
Q: Can you meet my urgent deadline for my psychology paper?
A: Absolutely. We work efficiently to complete custom assignments before your deadline so you can review the work stress-free.
Q: How do I get started with your psychology assignment help?
A: Starting is easy – provide your assignment details via our order form. We'll quickly match you with a psychology expert to fulfil your writing needs.
Contact Academic Assignments today to learn more about our psychology assignment help services!