Statistics Assignment Help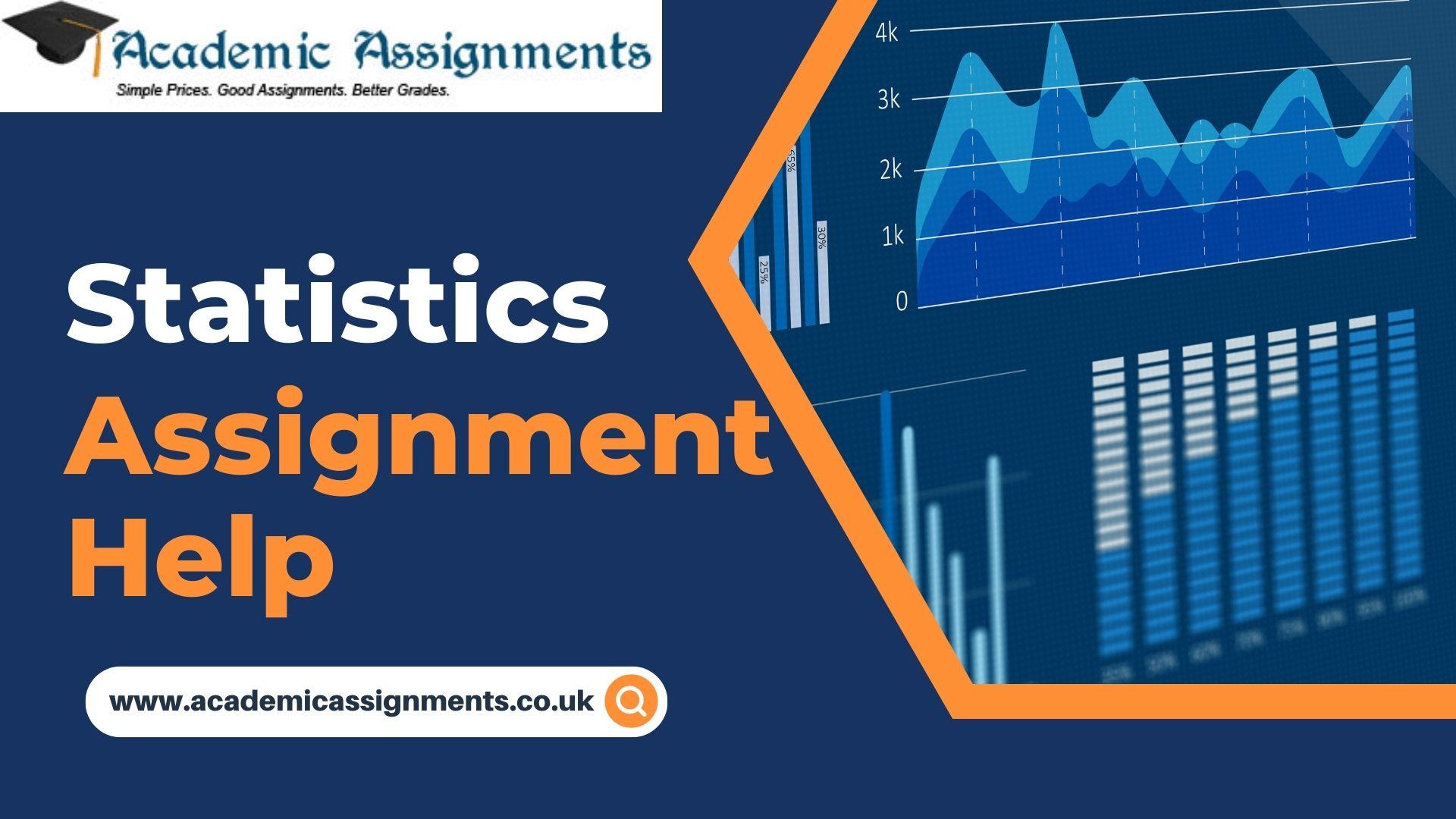 Are you struggling with probability and statistical calculations? Are you finding yourself overburdened with statistic assignments? Perhaps the technical application, interpretation, and presentation of statistical mathematics are tolling your mental peace! Then why don't you hire assignment writing help at Academic Assignments?
Now let's move on to the next question-why do we need statistics? It does not tell you the weather, but it is a powerful tool that tells you about the world. Without statistics, we are blind to correlation, patterns, and the probability of events every day.
Statisticians are in great demand these days. This is why students are opting for statistics with the hope of getting better job placements. Whether you choose this subject as main or optional, you need to start studying in the initial stages to cope with the topics covered.
Statistics assignments are difficult to complete if you are not serious about studying. Students usually face mental pressure in completing homework. There are times when students are preoccupied with other assignments or unable to cope due to extra classes. In such cases, it is ok to hire statistics assignment help.
What are statistics and their types?
Statistics is a subject related to data collection, analysing, interpreting, and presenting them in a survey or market research format. It is a branch of mathematics, a science of learning from data, teaching the procedure to collect data, and systematically interpreting them.
Statistical calculations enable the researcher to explain interrelationships between various variables, make predictions, produce accurate results and evaluate conclusions.
Statistics is not just mathematics; it involves other subjects like economics, finance, and insurance. Today statistics includes software techniques that increase the scope of the subject. The concept of statistics is interrelated; this is why most students find it difficult to conquer the subject.
Now, students do not need to feel stressed anymore, as there are online tutors to help them understand the subject properly. Hiring statistics assignment help at Academic Assignments assists in understanding complex subjects easily.
In addition to offering assignment writing help, academic writing services help you get good scores for the homework. Thus, you should not hesitate to receive online assistance, as the experts help you get in-depth knowledge.
Types of statistics
Statistics is a subject that connects all other disciplines. It is applicable to research studies, data collection, and technical fields that stimulate the advancement of numerical principles and new studies.
Statisticians utilise a wide range of tools and methodologies in mapping out underlying theories for each topic. This subject utilises arithmetic tools and real-life occurrences while compiling and evaluating collected data. However, there are two major types of statistics used by analysers;
This statistic is considered the initial stage of statistical evolution. It portrays graphical data that provides relevant information on collected data and its analysis. This study involves the collection, presentation, and management of data.
Furthermore, this statistic calculates the mean, median, mode, central tendencies of data, and distribution.
This statistical method is different from descriptive statistics as it equates to and interferes with the data collected for statistical operation. This type of statistics involves information gathered from a considerable population using sampling data.
These statistics are utilised in social experiments that ascertain minor population and their behaviour. These statistics require a considerate amount of understanding of studying minor data, analysing every detail, and drawing relevant conclusions to avoid arriving at wrong solutions.
What are the common issues encountered during statistics assignments?
Students who do not appear in classroom learning or are already occupied with jobs may face issues using statistic assignments. Usually, statisticians and students face the following issues;
Manipulation o scale charts or axis in graphics
Use of ambiguous percentage
Referring to small data
Trying to give meaning to minor parameter differences
Referring to unreliable data surveys
Why do you need statistics assignment help?
Statistics is a complex subject. It is a huge subject with enormous application-oriented problems. Thus it is difficult for students to finalise statistics topics and get the homework done within a stipulated timeline.
Collecting data, analysing them and filtering and matching data, and furnishing argumentative conclusions is a mammoth task for students who pursue higher studies. Advance studies mean covering many subjects with numerous topics, and each subject needs equal time and effort.
Usually, colleges provide a short time to finish all the assignments, which is when students get stuck. Hiring online assistance for statistics assignment help is the only option left to finish your homework.
The academic assignments hires expert tutors and statisticians who are well-versed in the topics. They solve your assignments at lightning speed with a 100% accuracy level. Once you hire statistics assignment help, you get plagiarism-free, unique assignments according to your requirements.
Academic Assignments help students with the best solution. The experts working here are qualified in this field and help you score good grades at college.
Here are the reasons why you should hire statistics assignment help
Academic Assignments provide extremely excellent data research and technical analysis. They put effort into furnishing flawless explanation and deduction analysis. They offer real-time solutions to collect data that further help you carry out project-related statistical studies.
College students always suffer from budget constraints as they have to cover various personal and academic expenses with limited pocket money. If you are one of them, then do not worry; online assignment help will get you covered. The fees are nominal and earmarked so that every student can afford assignment help services.
When students are paying for assignment help, they anticipate superior quality outcomes. Academic Assignments is a team of experts who do not compromise on the quality of deliverables. They provide superior-quality homework assignments at an affordable price. When you hire statistics assignment help, they ensure you receive unmatched quality assignments.
Your data is important for online assignment help, but they make sure never to disclose your details to any third party. The writers working for online assignment help services have signed agreements that include non-disclosure of information. The online assignment providing services are committed to top-class services while maintaining high-value privacy of information.
Frequently Asked Questions
Q: What is Statistics Assignment Help?
A: Statistics Assignment Help is a service provided by Academic Assignments to help students with their statistics assignments, which include data analysis, hypothesis testing, probability theory, and more.
Q: Who can benefit from Statistics Assignment Help?
A: Any student who is struggling with their statistics assignment or needs help with statistical analysis can benefit from this service.
Q: What kind of statistics assignments do Academic Assignments provide help with?
A: Academic Assignments provides help with all kinds of statistics assignments, including descriptive statistics, inferential statistics, regression analysis, time series analysis, and more.
Q: How experienced are the experts at Academic Assignments?
A: The experts at Academic Assignments are highly experienced and have advanced degrees in statistics, mathematics, and related fields. They have years of experience in providing statistical analysis and assignment help to students.
Q: Is the service provided by Academic Assignments confidential?
A: Yes, Academic Assignments guarantee 100% confidentiality of all student information and assignments. All communication and transactions are kept private and secure.
Q: Can I get revisions if I am not satisfied with the work provided by Academic Assignments?
A: Yes, Academic Assignments offers unlimited revisions to ensure complete customer satisfaction. If you are not satisfied with the work provided, you can request revisions until you are satisfied.
Q: How can I contact Academic Assignments for Statistics Assignment Help?
A: You can contact Academic Assignments through their website or email them directly. They also have a customer support team available 24/7 to answer any questions or concerns.