Annotated Bibliography Assignment Writing Service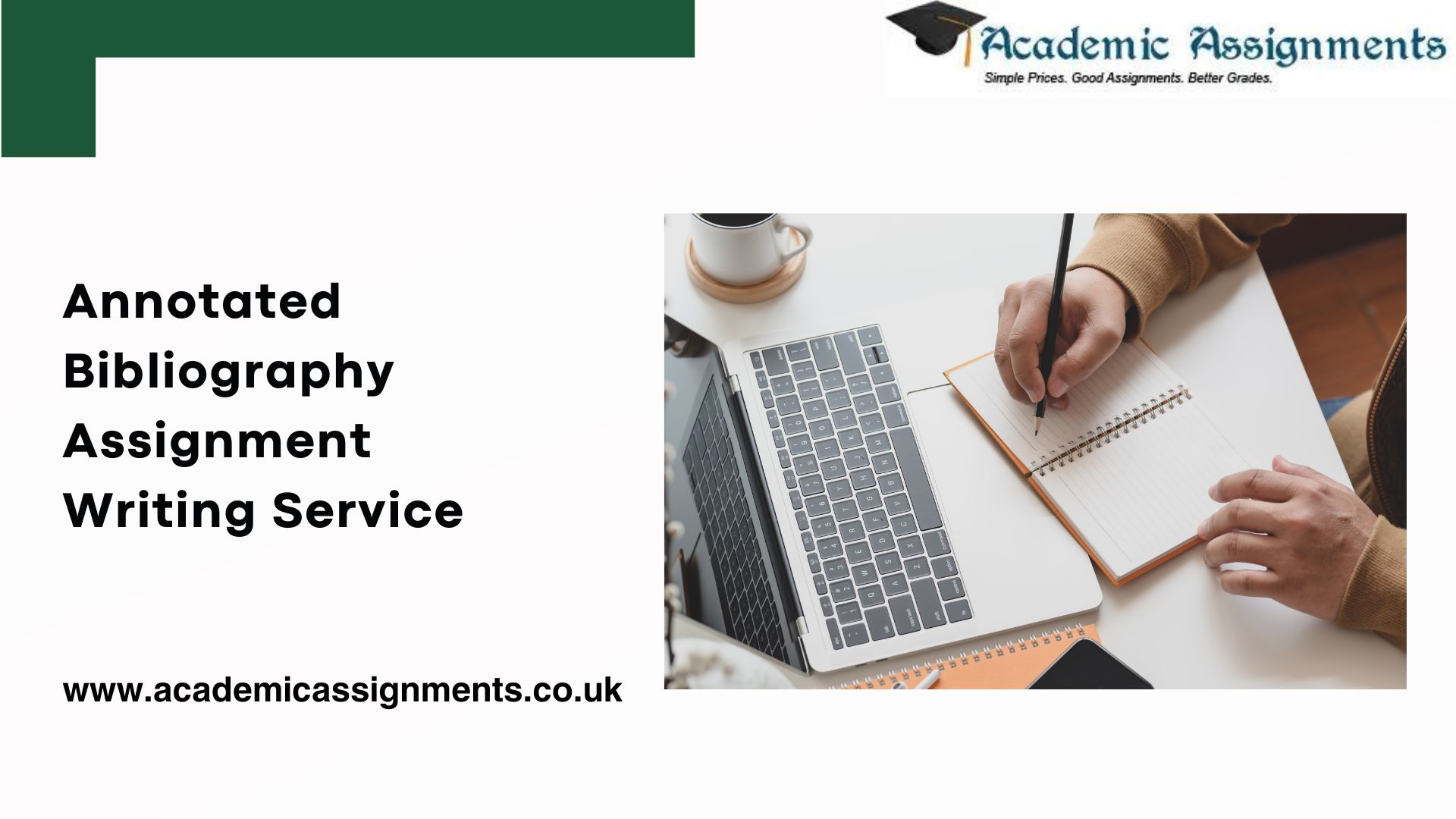 Introduction
An annotated bibliography assignment writing is one of the most popular services provided by Academic Assignments. An annotated bibliography reviews literature relevant to a research topic or question. This article will provide an overview of Academic Assignments' approach to annotated bibliography assignments, including annotation's purpose, structure, and key elements.
Purpose and Structure of Annotations
An annotated bibliography aims to summarize and evaluate sources like books, journals, articles, and documents related to a specific research topic or question. Annotations provide a concise summary and assessment of each source.
Each entry in an annotated bibliography includes the full citation information in the required style (APA, MLA, etc.) followed by a short descriptive paragraph—the annotation. Annotations are typically 150 words long but may vary based on specific instructions.
Approach to Annotated Bibliography Assignments
For most assignments up to level 7, Academic Assignments follow a guideline of approximately 150 words per annotation. For example, if the total assignment length is 3000 words, we would write approximately 20 annotated entries.
The length of higher-level assignments of levels 8-9 is usually 200-400 words per annotation, depending on the specifics provided.
Writing One Author per Paragraph
The recommended structure is to summarize each source within its paragraph. We focus on one author's work per annotation rather than combining multiple works.
Focusing on Summarizing the Author's Work
When writing annotations, we aim to objectively summarize the key information about each source rather than injecting our analysis or opinions. The focus is on presenting the author's research using an academic tone.
Avoiding Injecting Personal Opinions
Even if our writers disagree with an author's approach or findings, we avoid including subjective opinions in an annotation. The purpose is to represent the author's work through summary and assessment objectively.
Key Elements of an Annotation
We begin each annotation by introducing the author's name and their publication or source title. This identifies the reference for the reader.
Next, we explain the author's research objectives, topic, scope, and intent for the work being annotated. This provides context.
The annotation outlines the methods, approach, or research design used by the author. This helps assess the source quality.
A summary of the source's key findings, arguments, or conclusions follows. This is the core focus of the annotation.
Relevance to Broader Study
Finally, we tie back the source to the broader research purpose or topic. This evaluates its applicability.
Conducting Literature Reviews
Annotated bibliographies are useful for conducting literature reviews for larger research projects, in addition to standalone assignments. For graduate-level dissertations and theses, an annotated bibliography can serve as an initial literature review, analyzing existing research on the topic one source at a time. An annotation is a summary and/or evaluation of each of the sources. Depending on the project or the assignment, annotations may do one or more of the following: help learn about the topic, help gain a good perspective on what is being said about the topic, and help other researchers. An annotated bibliography allows the reader to choose whether to explore the available sources or not on their own while a literature review directs the reader.
Selecting Sources
Academic Assignments take care to avoid any personal or publisher bias when selecting sources to annotate. They aim for objectivity. Their researchers develop focused search strategies using precise keywords and search criteria to locate appropriate sources. They apply defined inclusion and exclusion criteria to filter sources and identify the most relevant, authoritative, and timely publications or materials to annotate. Their experts evaluate the sources carefully based on the assignment needs to determine the optimal references to include for annotation.
Academic Assignments' Annotated Bibliography Service
Academic Assignments has expertise across disciplines, which allows them to annotate sources from marketing to medicine, nursing, engineering, economics, and more. Their writers complete rigorous training on summarizing sources objectively, evaluating relevance and authority, and perfecting annotation structure. Seasoned quality managers provide oversight and feedback to ensure annotations meet academic standards. Following best practices and their refined process ensures annotations are comprehensive, well-structured, and aligned to instructions.
Frequently Asked Questions
Q: What is an annotated bibliography?
A: A list of citations or references for books, papers, documents, etc. is included in an annotated bibliography along with a brief summary and evaluation of each source. The goal is to give a brief summary of the pertinent studies on a subject.
Q: What is included in an annotation?
A: Each annotation gives a brief overview of the original material and assesses its quality, correctness, and relevancy. Typically, annotations are 150 words or less lengthy. Depending on the specific instructions, the length may change.
Q: What is the difference between an abstract and an annotation?
A: Abstracts encapsulate the main ideas in a single work. Multiple sources are compiled and evaluated using annotations. Annotations are substantially longer than abstracts.
Q: How are sources selected for an annotated bibliography?
A: Key search phrases, inclusion requirements, author/publisher authority, information currency, and relevance to the research topic or query are all taken into consideration when choosing relevant sources.
Q: What is the purpose of writing an annotated bibliography?
A: An annotated bibliography provides a literature review on a topic, allowing the researcher to evaluate existing research and build context. It informs research projects and often serves as a first step for larger projects.
Q: What information is required to create an annotated bibliography?
A: Our expert writers need the topic, research question or thesis, specific formatting requirements, number of sources required, citation style, and any additional instructions from the instructor.
Q: How can Academic Assignments help with annotated bibliographies?
A: Our experienced researchers conduct custom searches for relevant sources using academic databases. Our writers summarize and evaluate each source, providing perfect annotations.
Q: What citation styles do you use for annotated bibliographies?
A: We can cite sources using any major style including APA, MLA, Chicago, Harvard, IEEE, AMA, and more. Just let us know your required citation style.
Q: Can you give me a sample annotation?
A: Here is a sample APA style annotation:
Jackson, J. (2019). The evolution of marketing in the digital age. Journal of Marketing Research, 55(4), 433-451.
This scholarly journal article outlines current trends in digital marketing based on primary research. It provides comprehensive data on how techniques have evolved. The author has substantial expertise in marketing research. This source is highly relevant to research on digital marketing tactics.
Q: How can I order an annotated bibliography from Academic Assignments?
A: You can get a price quote and place an order through our website. Provide the topic, citation style, number of sources, deadline, and any other requirements. Our support team is available 24/7.