Level 7 Assignment Help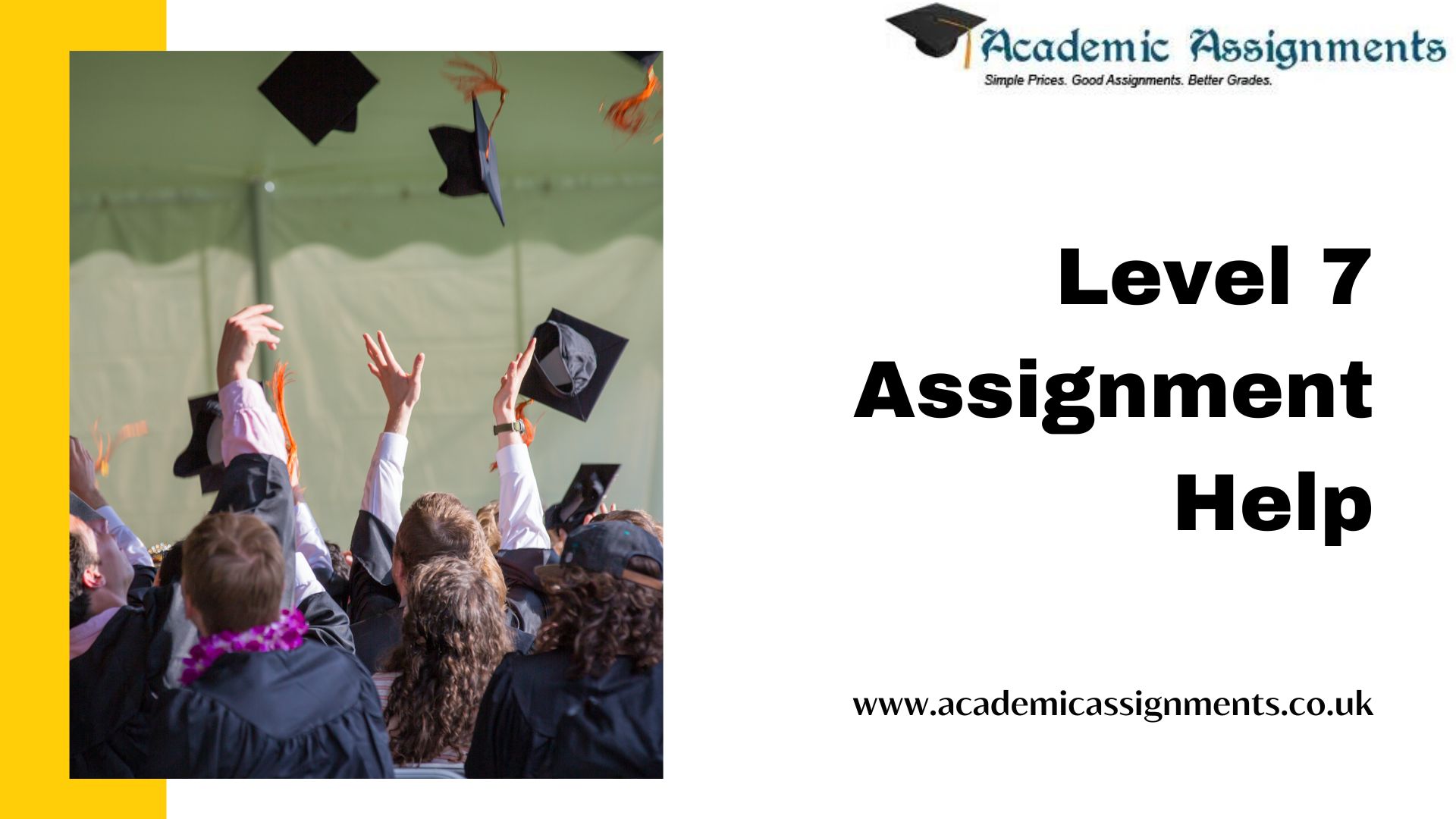 Level 7 is a renowned course that is offered by CIPD, which is a non-profit organisation.
This advanced-level diploma course is equivalent to any postgraduate or master's course, which any individual can acquire. If you have completed your graduation, you are working, or you are a housewife, you can acquire this degree. But the only level where you can apply for this course is "The Chartered Institute of Personnel Development. This is the professional body that offers this course, which is globally accepted and makes an individual learn about HR and people management.
This has been designed to judge an individual student's critical thinking level and ability to handle complex situations and thus make critical decisions for the business. This course provides immense opportunities for students to thrive in today's fast-paced and ever-changing business economy. Level 7 assignment is one of the services that Academic Assignments is serving. Our expert assignment writers are helping students who are juggling level 7 assignments. Thus, if you need help with CIPD level 7 assignments, our expert writers can help you. Do not hesitate and come with your problem; we are here to solve your problem, so there is no need to look further. Our writers will assist and support you on your journey to academic excellence.
Overview of the CIPD Level 7 Diploma Course
Level 7 course is one of the highest degrees the organisation offers. The courses are designed so that the learners get the knowledge of people management, and it also makes them learn various innovative strategies that one may implement in their work environment to bring success and growth to the organisation they will work at. Apart from this, the course gives an in-depth understanding of various leadership skills that plays a vital role in HR professional, which helps them to manage people effectively.
Why CIPD level 7 assignments are important?
Completing the assignment will allow you to complete this course, and the course will make you capable of dealing with
Areas that we cover in CIPD level 7 assignment help
We cover all the core units of the course that involve
Work and Working Lives in a Changing Business Environment Assignment Help
Personal effectiveness, ethics and business acumen
Business research in people practice
Strategic reward management
People management and development strategies for performance
Resourcing and talent management to sustain success
Strategic employment relations
Why do students find challenges in completing these assignments?
The CIPD Level 7 assignments demand extensive research; writing these assignments requires in-depth knowledge and analytical skills. This demands that students think about the practical aspect. And lack of knowledge may end up with the lowest grades.
Why choose our platform?
Expert Writers: Our team at Academic Assignments has in-depth knowledge of every core unit of level 7 assignments. They will help you with a good assignment that can bring a merit score for you. Our writers are well-versed with the requirements and will craft the assignment from scratch.
Follow CIPD guidelines: The level 7 assignments demand the assignment to meet the CIPD guidelines. Our recruiters are experienced and have proper knowledge about the guidelines, which helps to develop high-quality assignments.
Fast Delivery: We understand that assignments are meant to be submitted on time, so we provide you with the assignment on and before the promised date.
Customised solutions: We understand that every assignment is unique, so our writers work as per the given guidelines and requirement so that the solutions address the specific requirements and also ensures some uniqueness with the solution so that it helps you to stand out.
24-hour customer service: We are open from Monday to Saturday, but our friendly customer service team is available 24*7 to address your queries.
Plagiarism Free: We provide 100% plagiarism-free assignments to ensure that we use the paid plagiarism checker tool; we can proudly say that we are serving our customers with unique assignments.
Confidentiality: We highly value your confidentiality and ensure your information is not disclosed at any cost.
Frequently Asked Questions
Q1. What is the full form of CIPD?
CIPD stands for "Chartered Institute of Personnel Development", a non-profit organisation that offers a course on people management and development strategies course.
Q2. What is CIPD level 7?
This is a prestigious course and is equivalent to a postgraduate or master's degree, and the course is around HR and people management. This makes you understand various people management strategies and enables you to make an informed decision for the organisation you will work for.
Q3. Why level 7 assignments are important?
Level 7 assignment will showcase your understanding of the core units of the course and will promote a critical thinking level that you may implement at the organisation to bring success and growth to the organisation.
Q4. Can I do CIPD level 7 and work full-time?
Yes, you can continue your job with this qualification; the course is designed in such a way that it has flexibility with all its resources. In addition to that, CIPD provides this course all across the world, so you can study from anywhere you want to.
Q5.Why should students take Academic Assignments for level 7 assignments?
We have an expert team who will craft the assignment from scratch on your behalf. Our team has an in-depth knowledge of every core unit and will deliver assignments as needed.